< All Veterinarians
Colleen Mendelsohn
DVM, Diplomate ACVD, Board Certified Veterinary Dermatologist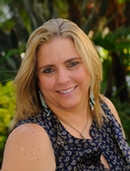 Dr. Colleen Mendelsohn is a 1997 graduate of UC Davis School of Veterinary Medicine and received Diplomate status with the American College of Veterinary Dermatology in 2004.
After graduation from UC Davis, Dr. Mendelsohn completed an internship with the Animal Emergency Clinic and Animal Specialty Group in San Diego. She later practiced general medicine before starting her residency with the Animal Dermatology Clinic in 2000. Her love and appreciation of the human-animal bond is what drew Dr. Mendelsohn to this specialty. In her words, "The conditions we treat often require good long term relationships with patients and owners, which affords me the opportunity to be part of that special relationship that develops between humans and pets."
Another opportunity that Dr. Mendelsohn enjoys is the training of veterinary students, helping these students appreciate the hidden complexities of dermatologic disease.