< All Veterinarians
Joel Griffies
DVM, Diplomate ACVD, Board Certified Veterinary Dermatologist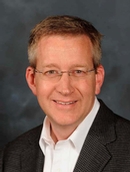 Dr. Joel Griffies is a 1992 graduate of Auburn University's College of Veterinary Medicine. After graduation, he worked in small animal and emergency practice for 7 years in Metro Atlanta, GA. In 1994, he began a small animal practice in Lawrenceville, GA where he developed a love for dermatology and a need to learn more. In 1999, he relocated to southern California to begin a residency with Animal Dermatology Clinic. Dr. Griffies completed his residency in 2001 and became a shareholder of Animal Dermatology Clinic shortly thereafter and has been an integral part of Animal Dermatology Clinics since.
Dr. Griffies is a diplomate of the American College of Veterinary Dermatology (ACVD) and co-owner and member of the Executive Board for Animal Dermatology Clinic. Dr. Griffies has lectured at a variety of veterinary conferences and meetings locally, regionally and nationally. In 2010, he moved from California back to the southeast and is the senior Dermatologist at Animal Dermatology Clinic, Marietta in the metro Atlanta area.
Dr. Griffies areas of special interest include topical therapies, endocrinopathies and allergic dermatitis.